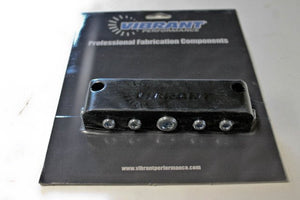 Vibrant Vacuum Manifold Vacuum Block Anodized Black - 2691
Description
Vibrant Performance has redesigned its popular Aluminum Vacuum Manifold, which  allows for consistent vacuum from a single source to be distributed through up  to 6 ports to support all your vacuum accessories. We now also include all  necessary mounting hardware for simplified installation. All ports come with  plugs pre-installed.
Allows for consistent vacuum from a single source that can be distributed to up to 6 outlet ports to support all of your vacuum accessories (such as Boost Gauges, Boost Controllers, Blow-Off Valves, Fuel Pressure Regulators, etc...)

All Ports are tapped for 1/8 NPT fittings. 

Includes 5 plugs for unused ports.

Very compact Design. Measures 5.5" long x 1.5" wide x 1" tall.

Designed to be a direct Bolt-On to the firewall of all 1992-2000 Honda Civic and 1994-2001 Acura Integra models but can be mounted on virtually any vehicle.

Vibrant One-Touch Vacuum Fittings are recommended for this vacuum manifold.
---
We Also Recommend