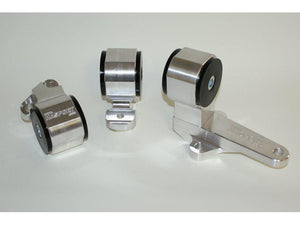 Hasport Swap Motor Mount Kit 88-91 Civic Crx EF B16a B18c Cable Transmission EFB1
Description
These mounts make B-series engine swaps into the 88-91 Civic or CRX a simple, bolt-in process. The kit is designed to work with the B16A, B17A and B18A engines, but it will also work with the B18B, B18C, and B20B or Z with few extra parts.
Every kit is engineered to race specifications. Engine movement is minimized by controlling the durometer of the polyurethane bushings, and as such, only 3 mounts not 4, are required for the engine swap.Three durometers of bushing stiffness are available at no additional cost. When ordering, specify whether you want "Street," "Race," "Extreme Race" stiffness. The urethane bushings also have a lifetime warranty.
* CAD/CAM Designed.
* Proper engine placement and axle angles.
* 6061 T-6 billet aluminum and precision welded.

* Lifetime Warranty.
---
We Also Recommend