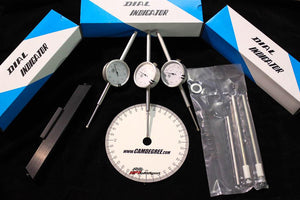 B-Series Complete Cam Degree Fixture Kit
Description
This Cam Degree kit invented and designed by Mike Belben enables you to not only degree-in your B-Series camshafts, but to check valve-to-valve and valve-to-piston clearances as well. No high-performance motor should be assembled without performing these procedures, and with this kit you can easily do them yourself.
Part # HPT-CDK-B
This COMPLETE KIT includes the following:
(1) Dial indicator extension
(1) Aluminum mount for outer dial indicators (B-Beam)
(1) Aluminum mount for center dial indicator (B-Plate)
(3) BBs for locking VTEC
(2) Low tension valvesprings
(2) "Rocker Lockers" for locking VTEC
(1) Degree Wheel
(1) Degree wheel spacer
(3) Dial Indicators
(1) Degree Wheel
****Note: Improper use of this kit CAN cause damage to your motor. Be sure that you are familiar with how to use it before you do so, or have someone knowledgeable present who can supervise you.****
There are no instructions included with this kit. Cam Degreeing, valve to valve clearancing, and piston to valve clearancing should be performed by a professional with proper experience and knowledge of this procedure. 
PICTURE SHOWS FULL KIT WITH DIAL INDICATORS and DEGREE WHEEL
---
We Also Recommend