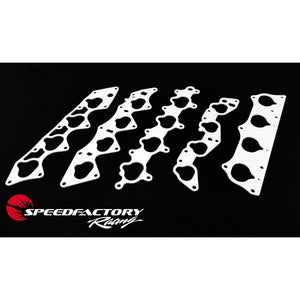 SpeedFactory B16A Thermal Intake Manifold Gasket SF-02-012
Description
SpeedFactory is proud to announce that we have redesigned the popular thermal intake manifold gasket. Our gaskets are designed to be used as a direct replacement for the OEM intake manifold gasket. The purpose of the gasket is to significantly reduce the transfer of heat from the head to the intake manifold. By doing so you are dropping the temperatures inside the intake manifold and also producing more power because of the drop in temps.

We have seen up to 40% increase in intake manifold temperatures without the use of a thermal gasket.

Here is a useful fact: For every 3.3°C (5° F) rise in intake temperature, air density drops 1%. The hotter the air, the less fuel the computer injects to compensate for reduced oxygen.

Our main goal in redesigning these gaskets is that we have been purchasing them from many different vendors for the past few years. Until now we have not been satisfied with the material that these gaskets are made from. Problems that we have seen with lesser quality materials are: melting, poor fitment, and worst of all shrinking to block the intake port causing a loss in power. Feel confident that our gaskets are the best on the market in quality and value.
Part #: SF-02-012
---
We Also Recommend