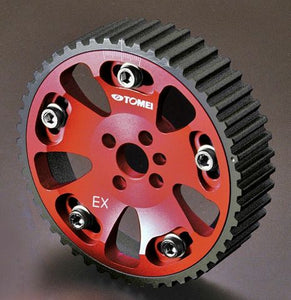 Tomei INTAKE Cam Gear Pulley RB26DETT RB25DET RB20DET RB26 RB25 R32 R33 R34
Description
This is a brand new Tomei Adjustable Intake Cam Gear for all Nissan Skyline RB20/RB25/RB26 Engines. 
This is just an intake cam gear, the engine also requires an exhaust cam gear which we also offer.  ( Part Number: TA302C-NS05A )
The angle that the stock cams are clocked to when installed at the stock location on factory cam gears not always the most effective for making power with aftermarket cams. Aftermarket cams with more aggressive lift and duration often need to be dialed in at a specific angle to optimize the powerband for your setup. Adjustable Cam Gears are important when installing cams as they allow you to dial in the cam degree for optimum performance. 
Note: Not compatible with NVCS 
Part Number: TA302B-NS05A
Engine: RB26DE(T) RB25DE(T), RB20DE(T) Old Part Number: 152009