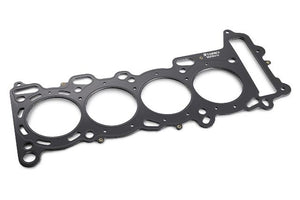 Tomei Head Gasket 87.0mm Bore 1.2mm SR20DE SR20DET S13 S14 S15 TA4070-NS08B
Description
SR20DE[T]-FR HEAD GASKET
ULTRA DURABLE, HIGH PERFORMANCE HEAD GASKETS 
HIGHLY OPTIMIZED, ENGINE SPECIFIC CONSTRUCTION 
MADE USING PREMIUM GRADE MATERIALS AND COATINGS 
PRECISION WATER/OIL ROUTE SEALS 
MULTIPLE THICKNESSES FOR CR ADJUSTMENT 
Highly resistant to heat and extremely durable.Superior sealing that can withstand high power applications. 
STAINLESS STEEL 
Stainless steel is used across all our high performance gaskets. Robust and resistant to high temperatures,stainless steel facilitates efficient transfer of heat from the combustion chamber to the cylinder block. In addition, it's flexible nature further strengthens the seal made by the spring-like beads which helps prevent issues such as blown gaskets and melted cylinder blocks. 
UNIQUE RUBBER COATING 
Both the top and bottom layers of the gaskets are coated in a specially developed unique rubber coating that reinforces the seal and contact with the head/block surfaces. 
SPECS:
Car Make: Nissan 
Car Model: Silivia S13, S14, and S15 
Engine: SR20DE SR20DET 
Old Part Number: 1331870121 New Part Number: TA4070-NS08B
Gasket Thickness: 0.047" / 1.2mm 
Bore: 87mm 
Material: STAINLESS STEEL 
Bore Size: +1.0mm