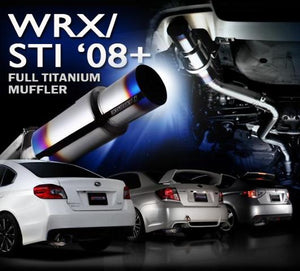 Tomei Full Titanium Extreme Ti Cat-back Exhaust for 2008+ WRX/STi
Description
High quality production, for true competition use without compromise. Only the best Titanium grade materials are used. From the special racing layout design, made as straight as possible, to the high flow silencer. They have poured their knowledge into it all. When you see their EXPREME Ti system, you'll fall in love with it.
The exhaust flow design was the main focus in the pipe design, the best pipe thickness for weight and strength with pipe diameter to suit torque and all power gains throughout the entire power band.
When aiming for true performance efficiency, they had chosen to design the exhaust with the least amount of bends as possible. Just like the true purpose built race cars, in a racing layout design, yet to still comply with the stock body design so it can be fitted to any street used vehicles.
Main Pipe Diameter: 80mm
Exit Diameter (tip): 115mm
PART NUMBER : TB6090-SB02C
*Previous part number -440018*