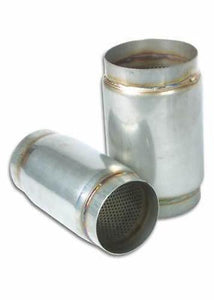 Vibrant Performance S.S. Race Muffler 4" Inlet/Outlet 1797
Description
Description: Stainless Steel Race Muffler, 4" inlet/outlet x 9" long
Material: T304 Stainless Steel
Warranty: Five Year Limited Warranty

Notes: Tracks all over North America now require racers to install some form of sound reduction equipment on their race vehicles.
Vibrant Performance Race Mufflers are designed to help reduce noise levels produced by high performance vehicles. They feature Vibrant's unrestricted "True Straight Through" perforated internals to avoid performance loss.
Muffler Specs
Inlet Diameter: 4"
Outlet Diameter: 4"
Muffler Size: 4.75" Round x 9" Overall Length
---
We Also Recommend